FARBIO® Organic Fertilizer for Herbs
Delivery time: 1-3 days in 🇩🇪/🇦🇹/🇨🇭/🇳🇱/🇩🇰/🇸🇪/🇫🇷/🇪🇺
✓ Basic supply for your plants: FARBIO® Organic Fertilizer for Herbs
✓ Add to the irrigation water
✓ Use year-round & suitable for all herbal plants
✓ Vegan, 100% organic, ECOCERT certified
Why FARBIO® liquid fertilizer?
✓ Specially developed for indoor plants and easy application at home.
✓ Dosage by pipette. Without spilling or sticky hands.
✓ Organic and vegan ingredients. Certified by ECOCERT.
✓ Development team with 30+ years experience and own production.
✓ Very high efficacy due to important micro and macro nutrients.
✓ Sustainable packaging made of glass.
✓ Human, animal and bee friendly liquid fertilizers. Not tested on animals!

Every purchase from FARBIO® creates more flowering area for bees and other equally important insects in the Lüneburg region. 🌻🐝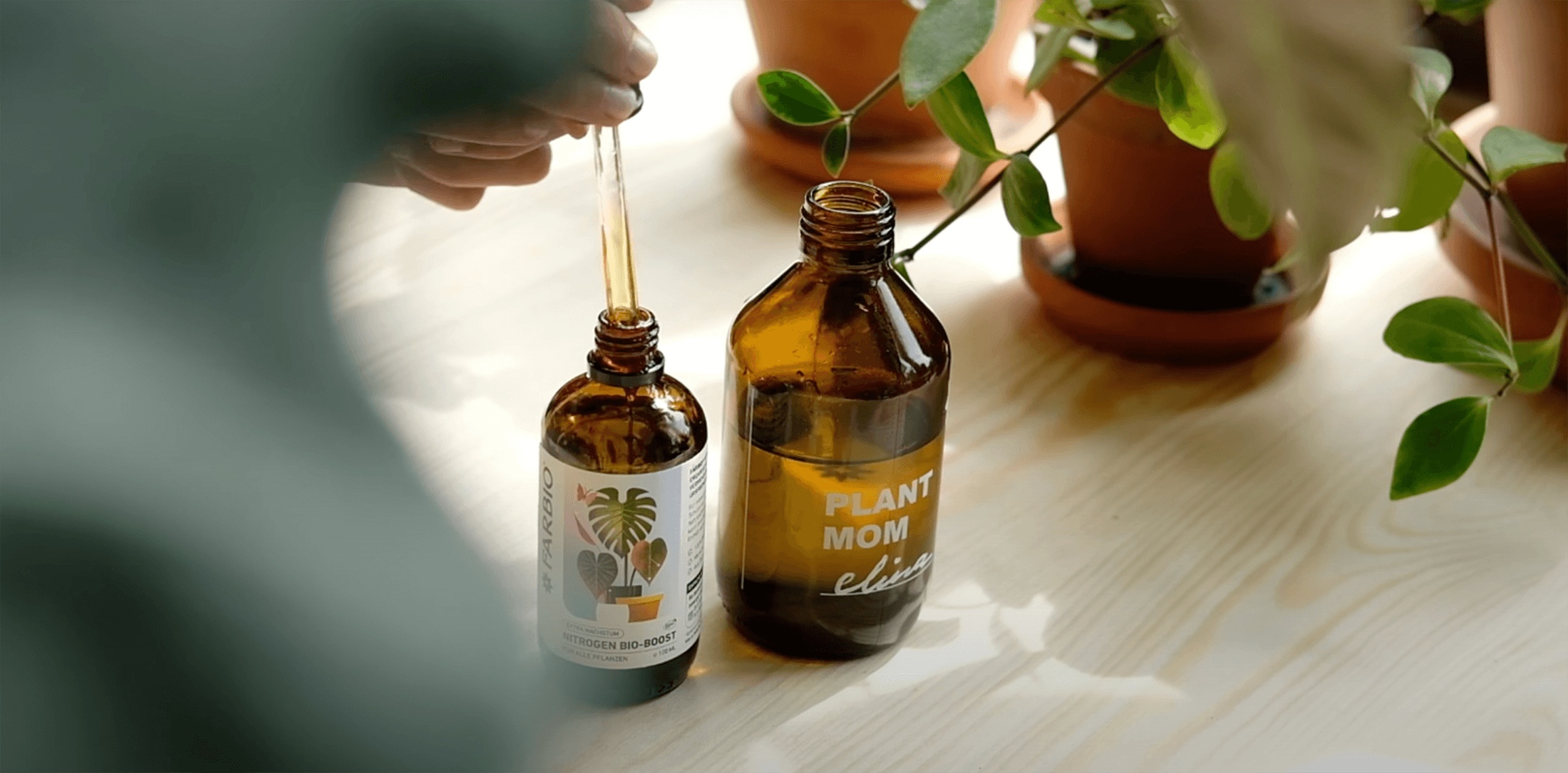 Organic NPK liquid fertilizer using humic acids of plant origin and plant-based amino acids.

3% N Total nitrogen
3% Norg Organic Nitrogen
3.5% P2O5 Water-soluble phosphorus pentoxide
3.5% K2O Water-soluble potassium oxide
36.5% MO Organic matter
27% Humic and fulvic acids
21.1% Corg Organic carbon
7% AA Amino acids of plant origin
Instructions: application and dosage

Year-round use. Add FARBIO® Organic Fertilizer for Herbs to the irrigation water. For house, balcony and small garden.

📅 Apply 2x a month from March to October.
📅 Apply 1x a month from November to February.

Mix 0.6ml FARBIO® Organic Fertilizer for Herbs with 250ml water
Mix 1.2ml FARBIO® FARBIO® Organic Fertilizer for Herbs with 500ml water
Mix 2.4ml FARBIO® Organic Fertilizer for Herbs with 1000ml water

All FARBIO® liquid fertilizers are mixed with water. A 100ml bottle of FARBIO® Organic Fertilizer for Herbs is sufficient for approx. 160 applications, mixed with 250ml water. This corresponds to approx. 41.5 liters of water with fertilizer. With 500ml water for 80 applications and with 1L water for 40 applications. A 250ml bottle gives about 104 liters of water with fertilizer.
Suitable for the following plants

Suitable for all herbal plants: basil, rosemary, chives, thyme, sage, coriander, parsley, oregano, mint, lavender etc.
Favorite fertilizer
The FARBIO liquid fertilizers provide important nutrients that your plants need. You can and should combine all fertilizers with each other.
View all products
Save €4,98
Save €9,97