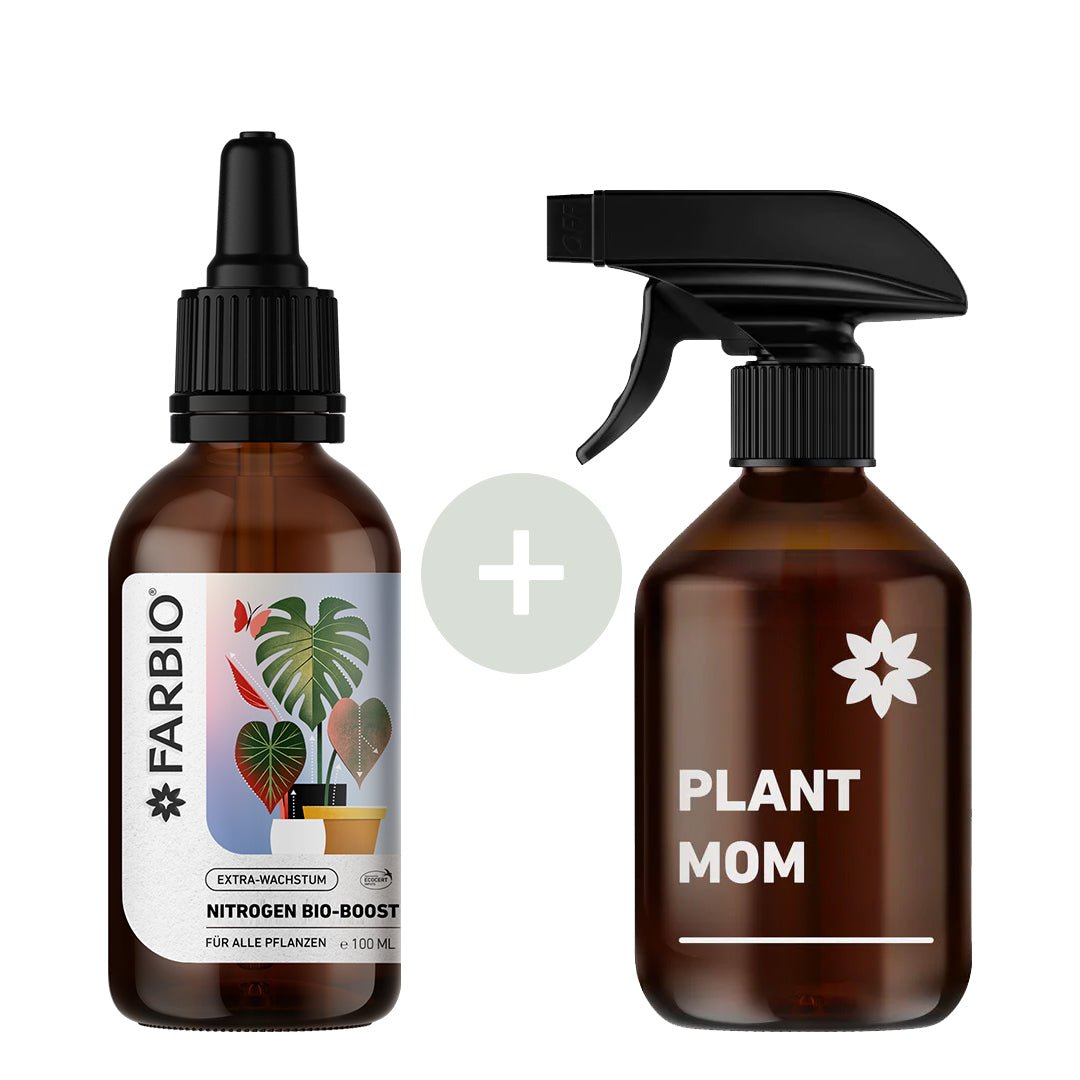 Package: Plant Care - extra growth + glass spray bottle
Delivery time: 1-3 days in 🇩🇪/🇦🇹/🇨🇭/🇳🇱/🇩🇰/🇸🇪/🇫🇷/🇪🇺
✓ Premium plant care: promotes the growth of your plants
✓ incl. high-quality glass spray bottle
✓ Mix with water and spray
✓ Year-round use & then spray the leaves generously
✓ 100% organic - ECOCERT certified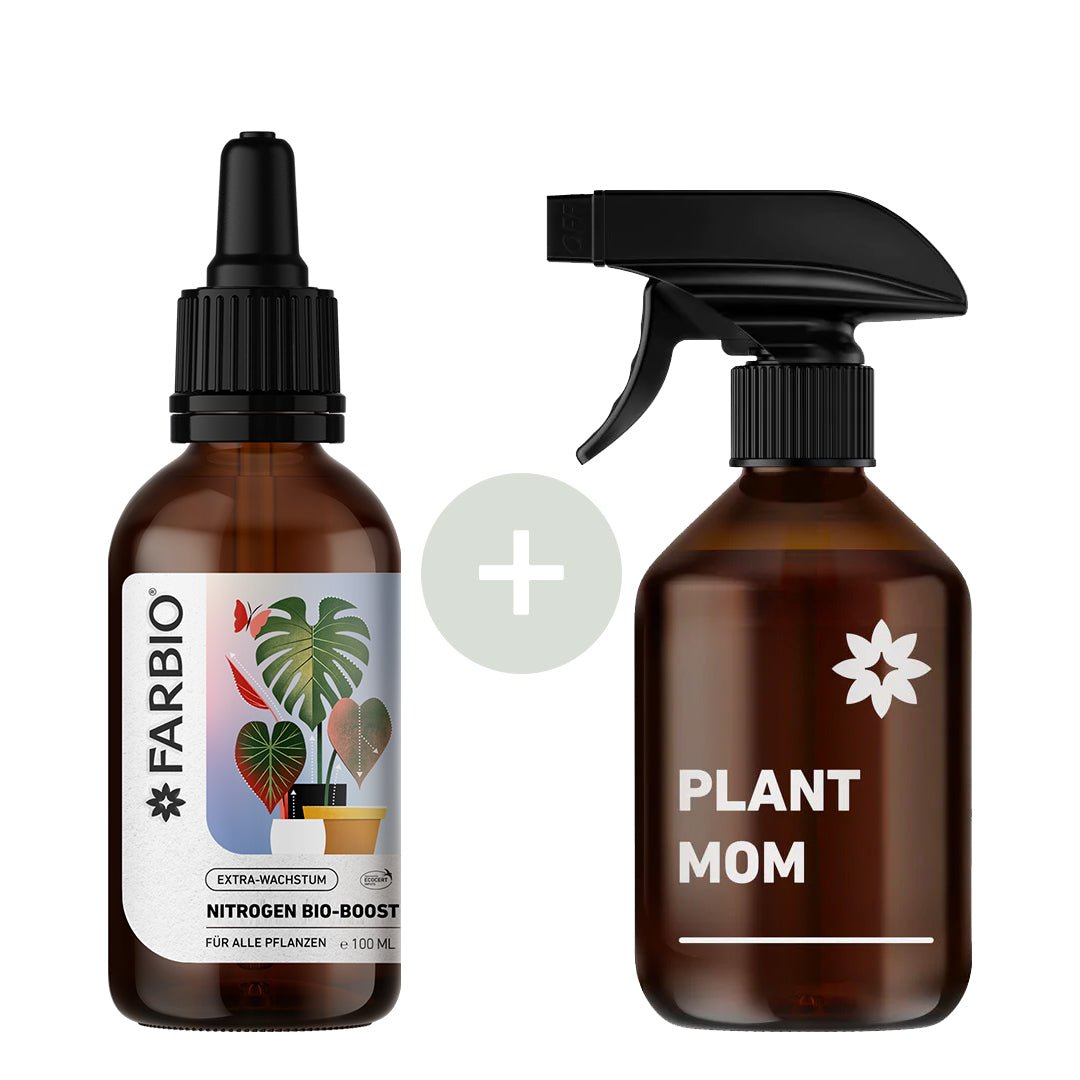 Product description
The premium plant care supports and strengthens your plants with important nutrients, which are essential for intensive leaf green and a pronounced growth of all plant parts. Our nutrient complex significantly accelerates the growth of your plant due to its high nitrogen content. Particularly fast absorption and efficiency when used as a foliar fertilizer.

The FARBIO® spray bottle made of sustainable amber glass is not only suitable for spraying the plants regularly with water, but is also ideal for applying this foliar fertilizer. Fill the spray bottle with water and add a few drops of FARBIO® Organic Nitrogen Boost. Then spray the leaves generously. Suitable for all plants ! 🪴
Why FARBIO® liquid fertilizer?
✓ Specially developed for indoor plants and easy application at home.
✓ Dosage by pipette. Without spilling or sticky hands.
✓ Organic ingredients. Certified by ECOCERT.
✓ Development team with 30+ years experience and own production.
✓ Very high efficacy due to important micro and macro nutrients.
✓ Sustainable packaging made of glass.
✓ Human, animal and bee friendly liquid fertilizers. Not tested on animals!

Every purchase from FARBIO® creates more flowering area for bees and other equally important insects in the Lüneburg region. 🌻🐝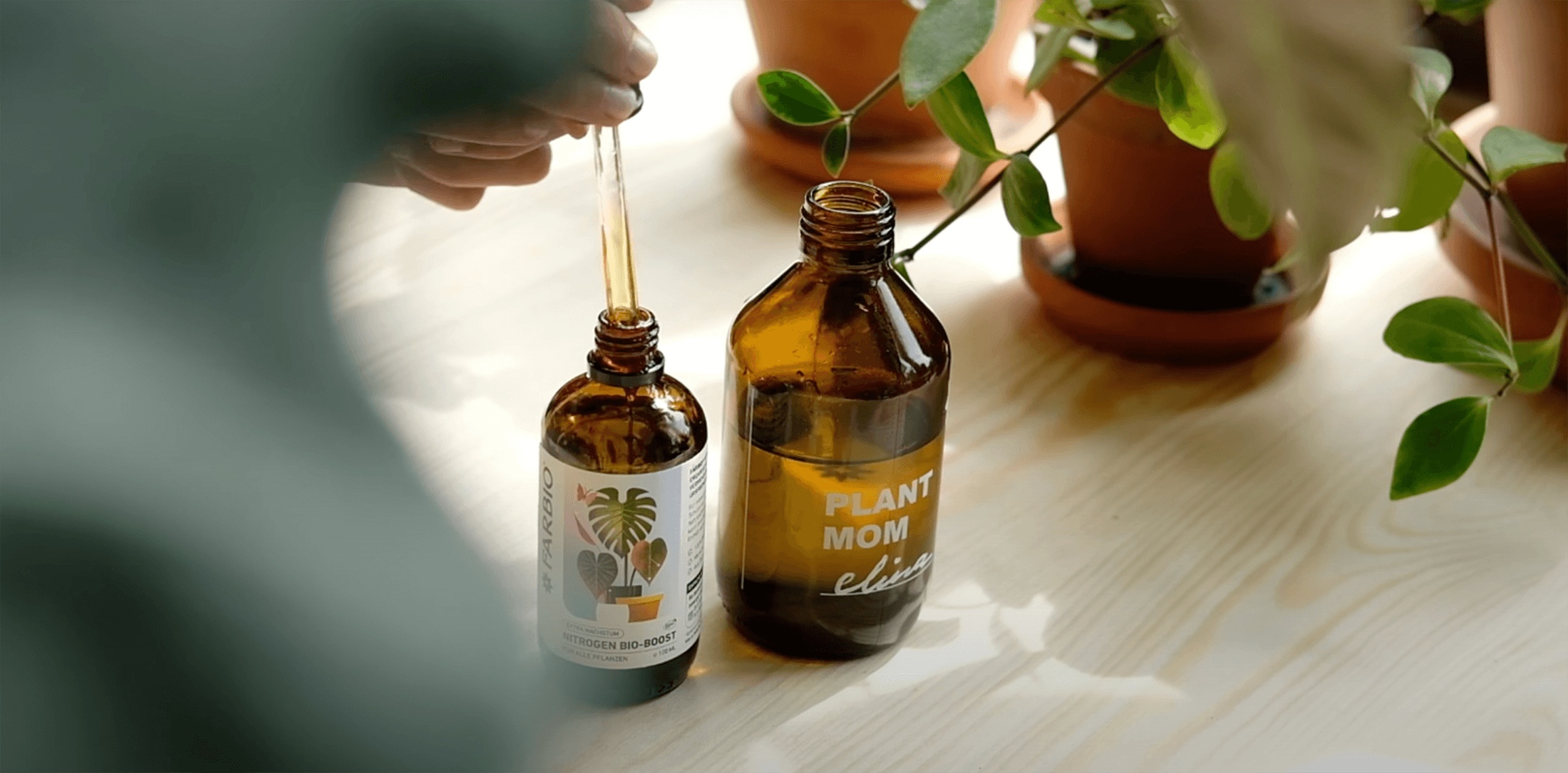 Organic N liquid fertilizer using fermentation residues of animal origin from enzyme production.
9.3% N Total nitrogen
8.8% Norg Organic nitrogen
29% Corg Organic carbon
57.1% AA Hydrolyzed protein (amino acids)
Instructions: application and dosage

Year-round use. Dilute the liquid fertilizer with water in a spray bottle. Then simply spray the leaf surface of your plant. The drops can also be added to the irrigation water. Should be used in addition to NPK fertilizers to provide optimal care for your plants.

📅 Apply 2x a month from March to October.
📅 Apply 1x a month from November to February.

Mix 14 drops of FARBIO® Organic Nitrogen Boost with 250ml of water
Mix 28 drops of FARBIO® Organic Nitrogen Boost with 500ml of water
Mix 56 drops of FARBIO® Organic Nitrogen Boost with 1000ml of water

All FARBIO® liquid fertilizers are mixed with water. A 100ml bottle of FARBIO® Organic Nitrogen Boost is sufficient for approx. 140 applications, mixed with 250ml water. This corresponds to approx. 35.5 liters of water with fertilizer. With 500ml water for 70 applications and with 1L water for 35 applications.
Suitable for the following plants

For example: Monstera, Ufo plant, Ficus bonsai ginseng, money tree, gold leaf palm, palm trees, lucky feather, aloe vera, kentia palm tree, elephant ear, rubber tree, fiddle fig, tree friend White Measure, elephant foot, basket marante, bow hemp, dwarf pepper, cacti, palm trees, radiant aralie, ivy, cycad, sterlitzia, dieffenbachia, club lily, Australian chestnut, alocasia, ornamental pineapple, fig tree, ornamental asparagus, single leaf, yucca palm, dragon tree, and much more.
Favorite fertilizer
The FARBIO liquid fertilizers provide important nutrients that your plants need. You can and should combine all fertilizers with each other.
View all products
Save €4,98
Save €9,97